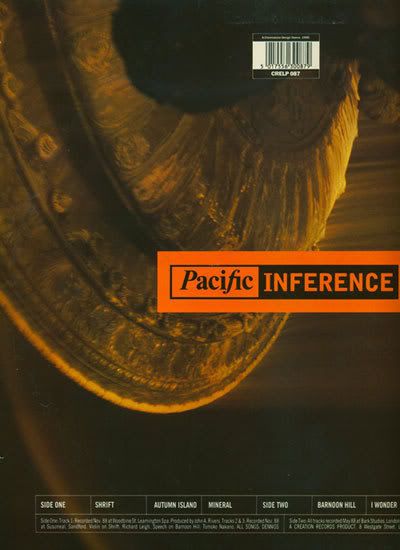 I'm updating this entry, originally from 2008, since new information has come to light, courtesy of my friend, Scott Sinfield (aka Ringinglow). Back then, I couldn't find much at all about Pacific but Scott recently mailed me to say :

"Your mentioning of Pacific earlier led to me digging out their 12"s and having a look around the net again for info. I've discovered who they were and what they're up to now. It was primarily the work of a guy called Dennis Wheatley, "a posh kid from Brighton" who got together with sisters Vanessa and Rachel Norwood to form Pacific. After performing at Alan McGee's Living Room, they signed to Creation. Wheatley later went on to record drum 'n' bass under the name Atlas, before forming a Latin/lounge/jazz/electronica band called Shrift (appropriately enough) --- http://www.myspace.com/shriftspace




Pacific have also appeared on Bandcamp where there's more info about who played on the records: http://pacific.bandcamp.com/track/barnoon-hill"

Anyway, here's my original post with a couple of small edits in light of that :

At the end of the 80's, Creation Records was in pretty good shape. Between 1988 - 1990, they'd released splendid records by Biff Bang Pow!, House Of Love, The Weather Prophets, My Bloody Valentine, Felt, Ride, Primal Scream, greatly outweighing those by also-rans, Emily, Apple Boutique, Revolving Paint Dream, Tangerine, The Times, The Jazz Butcher, Counterfeit, Something Pretty Beautiful and The Telescopes. Even so, Pacific weren't a big cannon for Creation - I'd hazard that none of their records sold more than 1000 - hence, the near-impossibility of finding this record. It was likely forgotten before it was even deleted. It's a shame but a common story in that sales bracket. Even so, for those with a penchant for the output of Factory, Creation or even Sarah and El Records around that time, it's worth searching out.

'Inference' is not so much of an album as a compilation of almost the band's total output.
Side 1 consists of the 1988 EP, 'Shrift.' The title track was recorded and produced by John A Rivers at his Leamington Spa studio, Woodbine. Rivers was most notable for his production jobs on Felt and Dead Can Dance at this time and 'Shrift' sounds pretty good - a high bpm pop song sitting somewhere between Section 25 and Frazier Chorus; driving sequencers, violin, trumpet, drums and Trevor Horn-style MIDI-string "hits." All the songs on 'Inference' are credited solely to 'Denniss' so I assume the rather unusual lead vocal (tongue touching roof of mouth) is his.
'Barnoon Hill' on Side 2 carves a similar furrow - upbeat, poppy, melodic and marrying the crisp indie pop jangle of the time with new-classical frills. These bleating Spanish trumpets, xylophone, cello, cornet, violin, acoustic guitar help make 'Inference' one of Creation's more interesting production jobs of the time. In that respect, Pacific had peers in, say, Shelleyan Orphan and the aforementioned Frazier Chorus, in that they were an "indie band" reaching high out of the standard drums/guitars/bass/vocal restraint.
Elsewhere, there are contemplative instrumentals that evoke foreboding storms, choppy seas and cathedrals in Spain. A liberal sprinkling of samples adds narrative effect - Indian folk singing, snowy Japanese radio broadcasts, the shipping forecast, Parliamentary debate, rainfall. One of these narrative instrumentals, 'Mineral,' is a highlight for me, as it shifts through it's simple passages of soft keys, struck piano, debonair, pastoral strings.
Alan McGee may be remembered most for Oasis but the attention is in the details.

1. Shrift
2. Autumn Island
3. Mineral
4. Barnoon Hill
5. I Wonder
6. Henry Said
7. Jetstream

Pacific were: Dennis Wheatley, Vanessa Norwood, Nick Wilson, Simon Forest, Rachel Norwood.


Further :

Pacific shared a split, covermount, flexi single with My Bloody Valentine in The Catalogue magazine (1989). Their track, 'December, With The Day' is the only one not released elsewhere.